Treatment and Services
At Attentive Dental we are proud to offer a comprehensive range of general dental services within out practice. In addition to this we can also provide you with a specialist referral if necessary. Your dentist can arrange this for you following a treatment consultation.
Diagnostic
We use various diagnostic aids during a comprehensive examination including digital radiographs, pulp vitality testing, decay diagnosis with light fluorescence, plaque detection with disclosing solutions.
Preventative Dentistry
We offer oral hygiene instruction, professional cleanings, periodontal (gum disease) management, dietary advice, mouthguards, night splints, fluoride treatments, remineralization and saliva testing when appropriate.
General Dentistry
We offer a range of general dental treatments, such as, fillings, repair of broken teeth, repair of decayed teeth and relief of jaw pain, gum pain or toothache, for adults and children.
Pain management
Diagnosis and management for facial pain, joint disorders and night grinding.
Root canal therapy (Endodontics)
Prolong the retention of diseased or fractured teeth using root canal therapy.
Crown and bridgework
Porcelain or Gold restorations that offer complete protection and restored function. Crowns can protect one single tooth and bridges can replace missing teeth by using the adjacent teeth as support.
Prosthodontic
Construction of dentures – metal or acrylic based to replace missing teeth
Tooth bleaching
Dramatic improvement can be achieved using safe and effective tooth bleaching systems.
Aesthetic (Cosmetic) Dentistry
Improving smiles with the use of tooth coloured restorations and aesthetic techniques to improve the overall appearance of your smile. Examples include Porcelain & Composite Veneers and Crowns.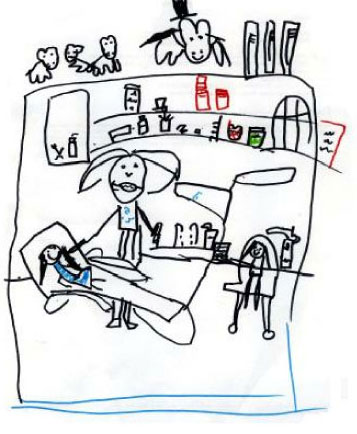 Illustration by 5 year old Claire
Minor Oral Surgery
Simple Extractions
Emergency Treatment
We may be able to offer emergency appointments at short notice for treatment such as: a broken tooth, tooth ache or jaw and gum pain. For out of hours emergencies please refer to our contact page.
Scheduling
When scheduling appointments we always attempt to allow adequate time for each patient, however certain circumstances and emergency patients can sometimes cause delays. We appreciate your patience and understanding.